Atosa Saladette Prep Fridge 2 Door 900mm – ESL3800
Atosa prep-fridge with high capacity and only 900mm wide. ESL3800 is a 2 door bench fridge with saladette top which can fit 6 x 1/3 GN + 3 x 1/6 GN pas up to 100mm deep. Bottom mounted fan and compressor so unit can be positioned close against the wall in tight kitchens. With a 135mm deep wipe-clean polypropylene chopping board, this salad bar counter suits everyday use in most catering or hospitality kitchens. Ideal for efficient preparation of toppings for sandwich, pizzas, kebabs etc,
Prep-fridge with high capacity on a small space. Only 900mm wide it can fit 6 x 1/3 GN + 3 x 1/6 GN pans and performs well in hot environments. Fitted with high-grade stainless steel interior and exterior and extra-thick heavy-duty stainless steel top it uses European manufactured parts - Embraco compressor, Carel digital controls, and EBM fan motor. Rated with a 43-degree ambient working temperature and using 134A refrigerant, CH10 Insulation foam, it has a working temperature range of -2 to +8 degrees with zero emissions Ozone depletion potential.
Retractable sliding / lift-up lid covering GN pans
Polypropylene chopping board, useable benchtop area ~900 x 135 (mm)
Static cooling system
Self-evaporating drainage
Manual defrosting Air Defrost - We recommend you defrost regularly for better maintenance of temperatures
Compressor and condenser situated on the bottom, so the motor can breathe and unit can be positioned flush against a wall
CH10 Insulation foam 35mm
Fits Australian GN pans
White Epoxy shelves and stainless steel rails
Comes installed with 4 castors for easy mobility (2 Braked on front)
GN / pans and Lids not included - ESL3800 can fit 6 x 1/3 and 3 x 1/6 GN pans 100mm deep
Capacity (Litre) 300
Inner Temperature (ºC) -2ºC to +8ºC
Additional information
| | |
| --- | --- |
| Weight | 72 kg |
| Dimensions | 900 × 700 × 888 mm |
| Cooling Temperature | -2ºC to +8ºC |
| Ambient rated temp | 43ºC |
Dimensions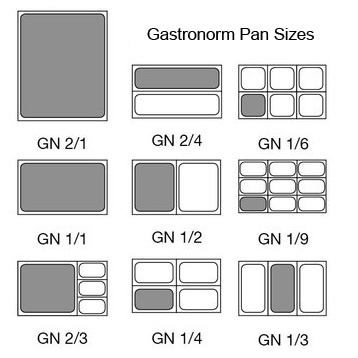 .
Warranty

2 YEARS WARRANTY ON ALL PARTS & LABOUR
+EXTRA 2 YEARS WARRANTY ON PARTS WHEN YOU REGISTER APPLIANCE WITH MANUFACTURER ONLINE – CLICK HERE

 Atosa Refrigeration
Atosa is proving itself to be a global leader not just through its success but by a commitment to manufacturing some of the most energy-efficient commercial prep fridges and underbench refrigerator systems on the market, from the ground up. With the use of high-grade stainless steel, Atosa units are thoughtfully designed to maximise usable space and materials while reducing construction waste and cost. Their reputation for powerful, reliable and efficient refrigeration is thanks to intense quality checking and the use of proven, high-quality European parts where it counts. Low noise, low vibration Embraco compressors and Italian made Dixell or Carel controllers, are not just super easy to use, they ensure precise, accurate temperature control which is ideally suited to Australia's demanding climate.
Atosa is quickly exceeding the Australian market with the reputation they have built over the years in the UK, Europe and USA. By supplying quality underbench refrigerator and prepcounters at an unbeatable price point they can boast of rave reviews for their durability and value for money. Now in Australia, they are quick to back up their quality and value of their prep & under counter fridges with an incredible four (4) years parts warranty on their entire range. All Atosa under counter fridges must pass a thorough series of tests for a minimum run time of 24 hours prior to shipping. These tests include computer refrigerant charging and vacuum decay checks. Helium leak detection, vibration & noise level monitoring, visual examinations and temperature accuracy analysis.
Atosa refrigeration is a blend of aesthetics, functionality and style to make your kitchen stand out above the rest. Atosa's mission is to help you create and maintain a beautiful and efficient commercial kitchen. With a wide range of sizes and specific application units to choose from, they have refrigerator options to cater to any size restaurant pizza or kebab shop, cafe, bar or hotel. All underbench fridges and freezers come with removable shelves, lockable self-closing doors, and castors as standard, which ensures they are secure, easy to clean and simple to move. The range of Atosa commercial preparation refrigerators includes not only single, double & triple door fridges & freezers but also a selection of application-specific prep-tables (pizza or sandwich), counter fridges, saladettes, under-bench fridges, and even keg coolers! They are also behind the great range of affordable gas cooking appliances from Cookrite. Check out the entire Atosa range here
All Atosa prep counter refrigerator units utilise CFC-Free refrigerants in both underbench fridge and under bench freezers. Atosa markets worldwide to demanding operational businesses: restaurants - pizza, kebab, sandwich shops, hotels, resorts, supermarkets and commercial kitchens.
Outstanding Warranty

All Atosa commercial under bench fridges, freezers have an outstanding warranty that gets even better when you register the refrigerator with them online.
Australia's Best Value Commercial Prep-bench Refrigerators
Kitchen Setup are proud suppliers of the Atosa prepbench refrigerator range around Australia. Underbench / under counter refrigerators & freezers, counters, kegorators. With shipping direct from the Australian distributor (Simco Group) we endeavour to offer unbeatable prices on the entire range. Contact us to get a stock check, delivery time, and our sharpest pricing upfront. 
Atosa prep fridges - freezers - counter tables @ stocked depots in
Melbourne | Adelaide| Perth | Sydney | Brisbane