Ice Machine 90kg – Under Bench ICEMATIC C90-A
Get ready for ice in its purest form and leave the best impression possible on your customers. The ICEMATIC C90-A harnesses cutting-edge technology to produce flawless shaped ice cubes. Each cube emerges crystal-clear, embodying the essence of purity. Say goodbye to watered-down drinks, as these ice cubes melt slowly, keeping your beverages refreshingly chilled without diluting their flavor.
Self-contained, underbench ice maker. Up to 90kg production per 24/hr. 42kg storage bin. Complete with legs, water & drain hoses + 1 ice scoop. 10 AMP power supply. 291 mm drain height including legs to finished floor.
Icematic Ice-maker. 90kg production + 42kg storage bin
The ICEMATIC C90-A Self-Contained Ice Machine is a game-changer in the world of ice production. Get ready to witness the incredible power of this machine as it churns out a whopping 90 kilograms of ice per day, redefining what an underbench ice machine can do. Its sleek and modern design, blends style with innovative features. The ICEMATIC C90-A will produce quality ice that will actually grab the attention of your customers. It's incredibly easy to set up, no need for complex installations or extra components—just plug it in, and you're ready to go.
Crafted with meticulous attention to detail, the ICEMATIC C90-A is built to handle the demands of heavy-duty ice production. Its sturdy construction ensures durability, promising to be a long-lasting companion in your final quest for the perfect ice. Manufactured in Italy with a stainless steel shell, it not only exudes the elegance you'd expect but also resists corrosion so your ice machine will stay looking pristine for years to come.
Navigating the features of the ICEMATIC C90-A is a breeze, thanks to its user-friendly interface and access via a smartphone app. It puts you in control with customisable settings, allowing you to adjust ice production times to suit your preferences. From the finest stylish cocktail presentations to impressive displays, this versatile machine adapts effortlessly, ensuring every ice cube serves its purpose. Embrace efficiency, designed with the environment in mind, this machine boasts an intelligently engineered cooling system that optimises energy consumption without compromising its impressive ice production. It's a  balance of power and responsibility, allowing you to enjoy the benefits of your ice machine while minimising your energy bill and ecological footprint.
Highly recommended for venues that want every impression to count, let your customers experience the extraordinary. With its remarkable daily capacity, robust construction, crystal-clear ice cubes, and eco-friendly operation, it transcends the ordinary and will elevate your venue to the next level. It truly is a game-changer. With Icematic the perfect ice is within your reach... and with the C90-A, lots of it!
Additional information
| | |
| --- | --- |
| Weight | 61 kg |
| Dimensions | 700 × 580 × 910 mm |
| Brand | ICEMATIC |
| Power Phase | 1 |
| Manufactured | Italy |
| Warranty Parts (months) | 24 |
| Warranty Labour (months) | 24 |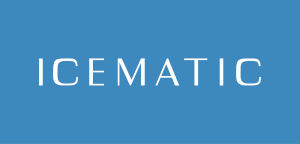 Australia's Best Commercial Ice Machine by

Icematic

Icematic - leaders in the production of the best commercial icemakers around the world. Icematic manufactures a wide range of ice machines designed for small cafes, bars, and pubs to high production units for large restaurants, hotels, fast food chains and industry, health, or hospital use. From the preservation and display of fresh seafood using flaked ice in shops and supermarkets to the creation of the perfect cocktail using nugget or half-dice cubes in the most sophisticated bar, Icematic will have the ideal choice of application and capacity to meet any catering need.

Self-contained full ice cube machines are under bench units with incorporated storage bins and large capacity. Their small, compact dimensions and stylish modern design allow for easy placement in front-of-house locations without compromising the look of your bar or cafe. Compact and transparent cubes are created using a spray system to quickly produce clear, transparent ice formed in the patented Icematic shape. Extremely elegant, long-lasting and chewable ice which is efficient for various uses: enjoy in water, ice buckets, cocktails, soft drinks or whisky on the rocks.

Hollow ice cube makers create a wide surface needed for rapid cooling. Its simple shape is fast to make and gives extreme flexibility of use. Soft drinks, cocktails and other preparations that need to be cooled fast. The hollow ice series is generally considered is the most versatile for most uses.

Nugget ice makers create ice that is both compact and pleasant to chew. Halfway between flake ice and solid ice cubes it is needed for the creation of various cocktails or where crunched ice is needed. Nugget ice has low water content and may be used in cafe's, bars, clubs, professional catering and restaurants. Its softer texture than solid dice makes it easily chewable and is the recommended ice of choice for the elderly in assisted living, nursing homes and the medical sector.

Full and square ice cubes are available in three different sizes Dice, Half dice and Large dice. Choose the perfect solution for quick beverage cooling in your establishment. The high productivity of the Dice cube ice makers can be perfectly matched with Icematic storage bins to meet the ideal requirements where a large consumption is required. Suited to many applications, Dice ice cubes are the optimal choice in large bars, nightclubs, hotels, resorts, restaurants and fast-food.

Flake granular ice is used in many industries. With multiple uses from food preservation and display, to cocktails and drinks or wider applications in cosmetics, medical and hospital environments. This type of wet ice is also ideal for the bakery sector. Icematic Flake ice makers ensure even ice quality with minimal residual water. It's easy to handle, stock and weigh. The residual-water content depends on model and may vary from 25% to 15%

The Icematic ice-dispensers are practical, compact, efficient and available from Kitchen Setup in two different models - Floor dispenser creating a full cube, and a counter dispenser with nugget type ice. Ideal for self-service, hotels and pubs where it is necessary to have easy-to-use, on-demand ice without the staff to restock or supply.

Discover the amazing features of the Icematic models in the Kitchen Setup range. Call us for any inquiries, info and discount price on the best ice maker for your needs.

commercial ice machine Perth - commercial ice machine Brisbane - commercial ice machine Melbourne
Australia's Best Value Commercial Ice Makers
Kitchen Setup is a proud supplier of the best Icematic ice makers around Australia. With shipping direct from the distributor we offer unbeatable prices on our entire range. Contact us for a stock check, delivery time, and discount price. 
Commercial Ice machines delivered direct around Australia
Melbourne | Sydney | Brisbane

| Adelaide | Perth