Lainox Oracle Combi Wave Oven – Red
Contact Us for pricing & availability.
Oracle brings the future of cooking to your kitchen and will adapt to any chef's cooking needs. During the preparation stages, it can be used in Combi Wave mode to cook delicate items such as pastries or bread, or simply with all the power of a microwave. At the start of the service, it can quickly turn into a High Speed Oven to offer your customers dishes that are ready literally in a matter of seconds.
Available in two electric versions, the Standard model at 3.6kW total power with 1kW microwave and the Boosted model at 6kW total power with 2kW microwave. Three colour options to choose from.
Lainox Oracle CombiWave High Speed - Red
The Lainox Oracle CombiWave Oven is a versatile high-speed oven that offers various cooking modes and features. In Combi Wave mode, it functions as a convection oven with temperatures ranging from 30°C to 300°C, and a microwave oven with a power of up to 2000W, or a combination of both methods delivering exceptional results. During preparation, it can be used for anything from baking to microwaving and when service starts, it quickly transforms into a High-Speed Oven, delivering dishes in seconds. Lainox has developed the Twin Microwave Diffusers which eliminates moving parts and ensures even distribution of microwaves with high reliability.
In High-Speed Oven mode, the Oracle operates with convection, microwave, and impingement modes. Using the latest advancements in air impingement technology. Impinger ovens use jets to blast hot air over food to allow for rapid heating, cooking, baking, and crisping of foods offering temperatures from 100°C to 300°C. It provides a Fast Cooking System 10 times faster than a standard convection oven.
Its compact design allows it to fit anywhere, measuring just 51 cm deep and 42.6 cm wide, it is suitable for placement behind counters or on service benches in any establishment without the need for water supply connections. The Oracle is also stackable so allows for doubling of the cooking capacity in the same compact space.
Cleaning the Oracle oven is hassle-free with the Oracle Washable Box, which features a removable and washable Teflon oven chamber. This cost-effective solution ensures fast and easy cleaning between cooking sessions. The innovative OWB system by Lainox keeps the oven chamber clean without the need for additional maintenance. The Oracle High-Speed Oven doesn't require an extraction system, such as a hood or flue, thanks to the Oracle Odorless System (OOS). The OOS utilises a labyrinth baffle catalyst filter with platinum particles to reduce steam, odors, and grease residue during cooking. The inbuilt extraction vents are equipped with stainless steel micro-stretched mesh filters that can be easily removed and washed in the dishwasher.
With the USB connection, HACCP data and recipes can be imported and exported using a USB stick. Oracle can be connected to Lainox's Nabook portal through Wi-Fi and Ethernet, enabling access to the free virtual assistant, Nabook plus. This connectivity ensures convenient management and support for users with automatic, tried-and-tested recipes for quick and efficient cooking or sharing recipes even with others who don't own an Oracle High-Speed Oven.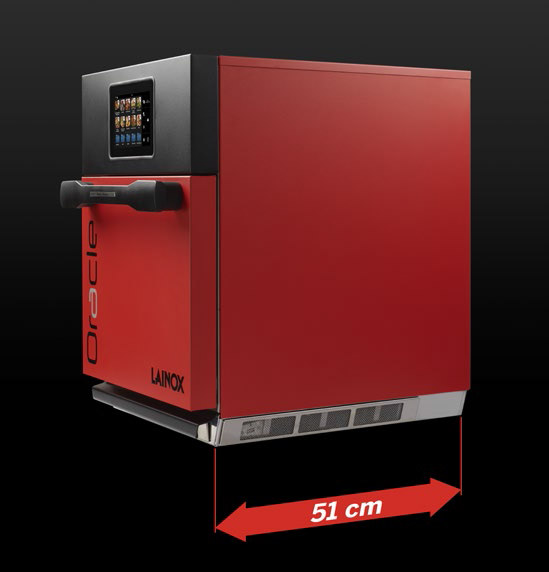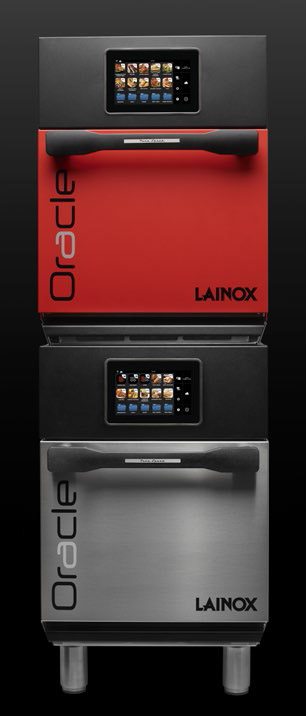 Oracle Washable Box
Teflon oven chamber which can be removed and washed for the next round of cooking, making the cleaning procedure fast and cost- effective.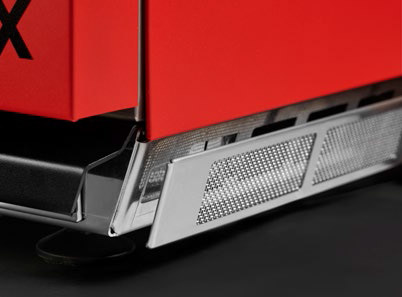 Filters
The extraction vents are fitted with stainless steel micro-stretched mesh with magnetic attachments. The filters can be easily removed and washed in the dishwasher.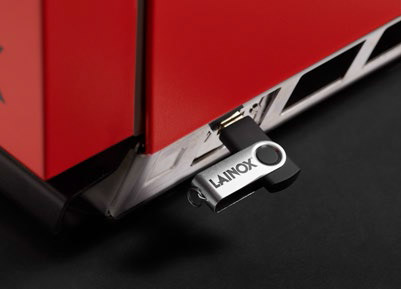 USB connection
HACCP data can be exported and recipes can be imported and exported onto a USB stick via the standard connection port.
Additional information
| | |
| --- | --- |
| Colour | Red |
| Dimensions cooking chamber | 310 x 320 x 180 (L x D x H mm) |
| Electrical power (kW) | 3,6 |
| Consumption (A) | 16 |
| Microwave (kW) | ORACRS – 1, ORACRB – 2 |
| Impingement (kW) | 3 |
| Voltage power supply | ORACRS – 1N AC 230 V – 50 Hz, ORACRB – 3N AC 400V – 50 Hz |
| Brand | |