Stainless Steel Commercial Single Sinks – D600mm
$834.00 – $1,524.00 ex.gst
Stainless steel single bowl sinks with wet bench from Mixrite. 1.2mm stainless bench tops with splashback. 41mm stainless tube legs with fine-tune adjustable feet. Generous bowl size – 450 x 450 x 300 (~60L). Comes with a pre-punched 90mm waste drain hole.
Available in seven lengths – 1200mm to 2400mm and two widths – 600mm & 700mm. Left (L), Right (R) & Centre (C) positioned sink options to choose.
Stainless Steel Single Sinks
Hard wearing 304 stainless steel single sinks with 150mm splash-back. Seamless fused work surface available in seven different lengths with left, right or centre position sink to suit your setup. Tubular legs allow the pipe under shelf to be adjusted to the desired height to suit your needs and adjustable feet ensure a flat work surface. Shipped flat-packed, easily assembled with included hex-key.
Wet bench with fabricated sink bowl and rear splash-back.
Available in 600mm or 700mm depth
Bowl size W450mm x D450mm x H300mm – available Left, Right or Centre bench position
Pre-punched waste hole to suit 90mm waste
1.2mm thick stainless steel top
41mm diameter round stainless steel tube legs with adjustable feet. (2100mm & 2400mm models supplied with six legs)
Under-shelf for storage / drying, pipe design to prevent water pooling
Suitable for fitting a dishwasher underneath when supplied with leg braces
Smooth turned edges for increased safety when cleaning
Supplied flat packed, easy to assemble. Hex-key included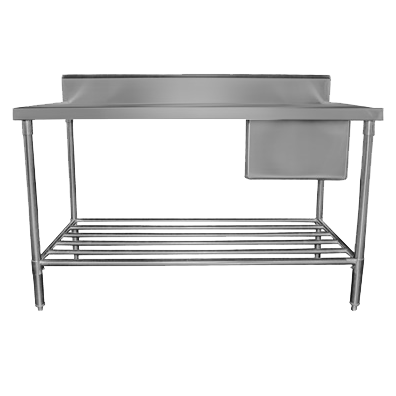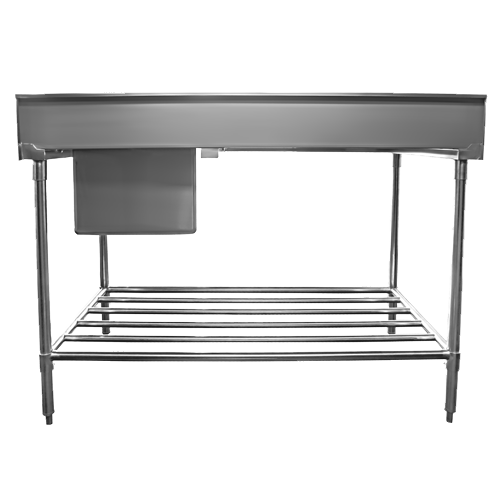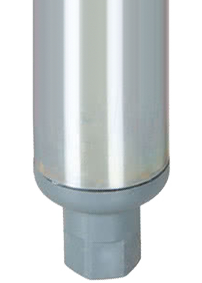 Adjustable Feet
Adjustable feet for fine tuning a perfectly level bench on any existing floor surface.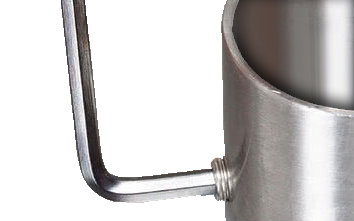 Adjustable Under Shelf 
Easy to assemble and adjust. Shipped flat packed. Hex-key included.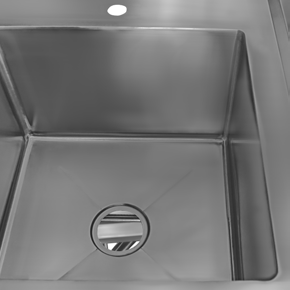 Pre-Cut Waste Drain
Standard 90mm waste drain pre-cut for easy installation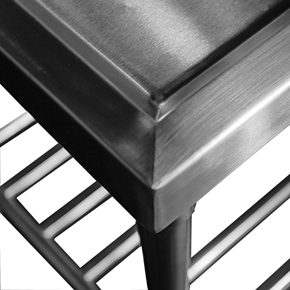 304 Stainless Steel
Machine polished hard wearing stainless steel legs, under-shelf and work bench.
Additional information
| | |
| --- | --- |
| Weight | N/A |
| Dimensions | N/A |
| Dimensions (mm) | SS1606 – W600 x D600 x H900 / 18.9kg, SS1609C – W900 x D600 x H900 / 21.8kg, SS1612C – W1200 x D600 x H900 / 25kg, SS1612L – W1200 x D600 x H900 / 25kg, SS1612R – W1200 x D600 x H900 / 25kg, SS1615C – W1500 x D600 x H900 27.8kg, SS1615L – W1500 x D600 x H900 27.8kg, SS1615R – W1500 x D600 x H900 27.8kg, SS1618C – W1800 x D600 x H900 / 34.6kg, SS1618L – W1800 x D600 x H900 / 34.6kg, SS1618R – W1800 x D600 x H900 / 34.6kg, SS1621C – W2100 x D600 x H900 / 41.4kg, SSS1621L – W2100 x D600 x H900 / 41.4kg, SS1621R – W2100 x D600 x H900 / 41.4kg, S1624C – W2400 x D600 x H900 / 45kg, S1624L – W2400 x D600 x H900 / 45kg, S1624R – W2400 x D600 x H900 / 45kg |
| Best Suited To | Cafes, Pubs, Bars, Bakeries, Quick Service Restaurants, Supermarkets |
| Brand | |