Commercial Underbench Fridges
For Sale Online – Melbourne – Sydney – Brisbane – Adelaide – Perth + Regional Australia
At Kitchen Setup we understand the importance of reliable and efficient under bench fridge in a bustling restaurant kitchen environment. That's why we offer a diverse selection of high-quality commercial refrigeration that meet the demands of various food service and retail establishments, from restaurants, cafes, bars, to food trucks. Enhance the efficiency and functionality of your commercial kitchen with our extensive range of commercial underbench fridges. These compact yet powerful refrigeration units are specifically designed to fit seamlessly beneath countertops, or integrated with solid workbenches providing convenient storage while maximizing your workspace.
Our commercial underbench fridges are crafted with durability and performance in mind. Constructed from robust materials, they are built to withstand the rigors of a busy kitchen, ensuring longevity and dependability. Their sleek and compact designs allow them to seamlessly integrate into your kitchen layout, optimising space and maximising cold storage. Equipped with adjustable shelves, you can customize the interior layout to accommodate different size GN pans and quantities of food items. This flexibility enables the efficient organisation and easy access to your ingredients, condiments, beverages, and more. Temperature control is paramount when it comes to preserving the freshness and quality of your perishable goods. All our commercial under bench fridges feature precise digital temperature control systems, allowing chefs to set and maintain the ideal temperature for their specific requirements. This ensures optimal food safety and extends the shelf life of your ingredients.
Efficiency is another vital aspect we prioritise in our range. Equipped with quality compressors and fans, all our units deliver rapid and consistent cooling, ensuring that your products are kept at the desired temperature. The energy-efficient design helps reduce operating costs while minimising noise, vibrations and environmental impact. Cleaning and maintenance are made quick and hassle-free. The smooth and durable stainless steel finishes are easy to wipe down and keep clean, saving staff valuable time at the end of service in a busy kitchen environment. Additionally, the removable shelves or drawers simplify the cleaning process and enable thorough hygienic sanitation.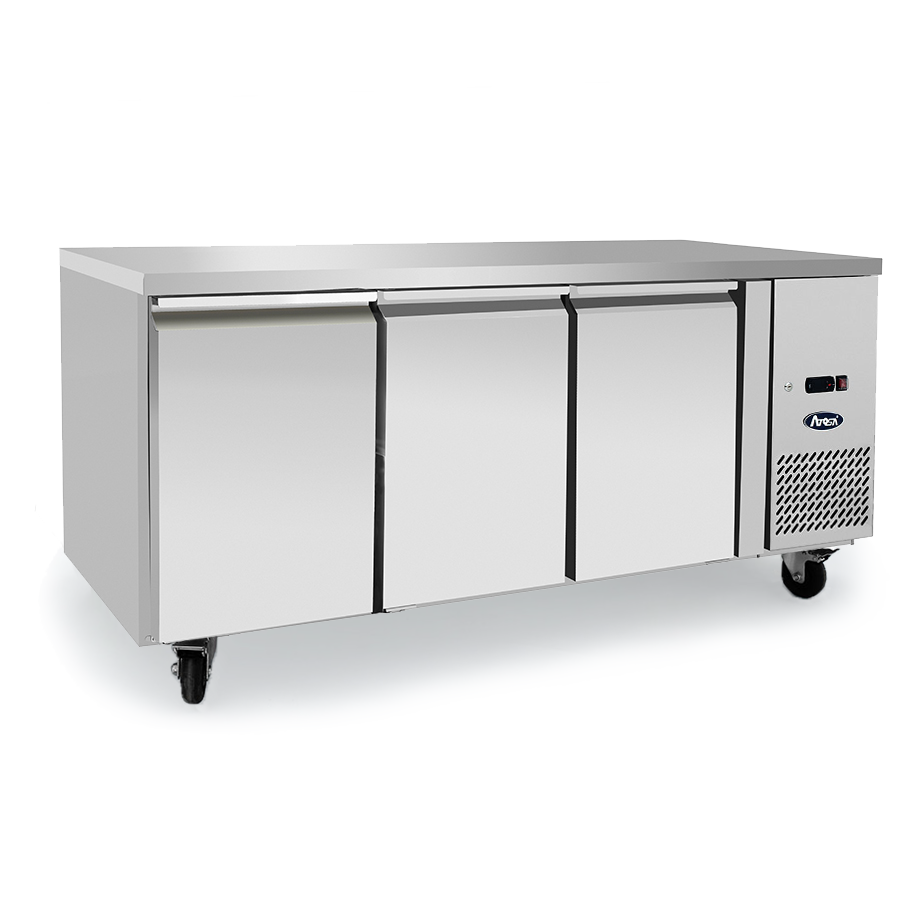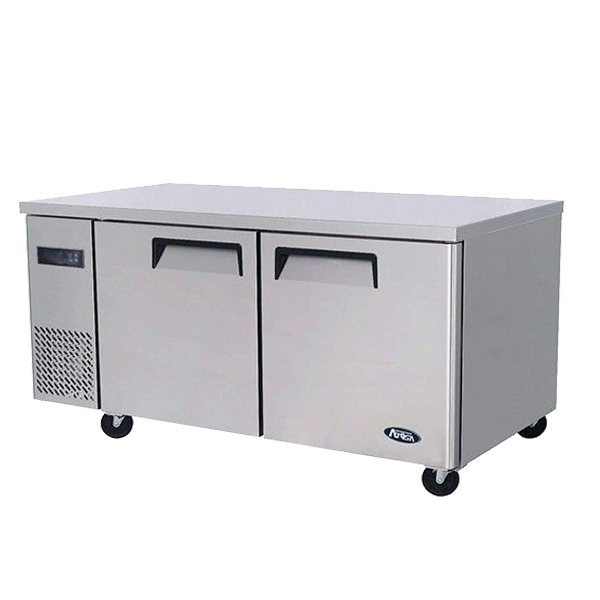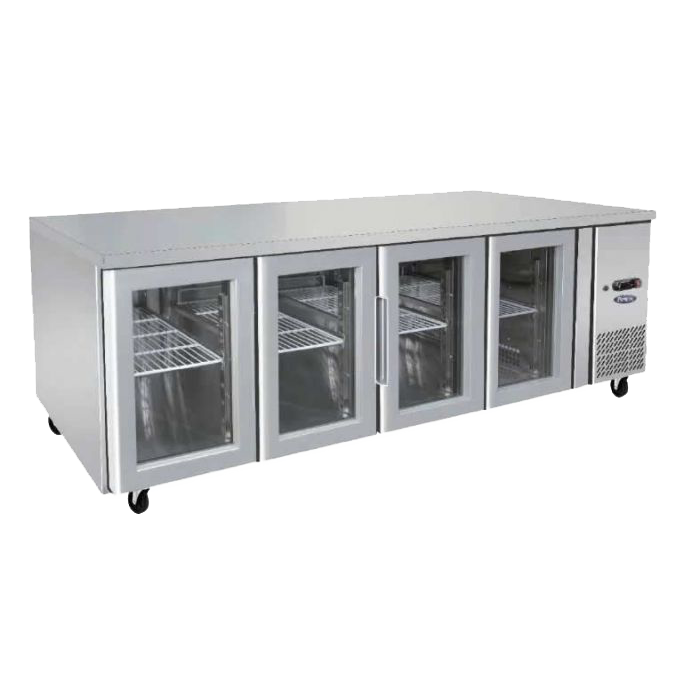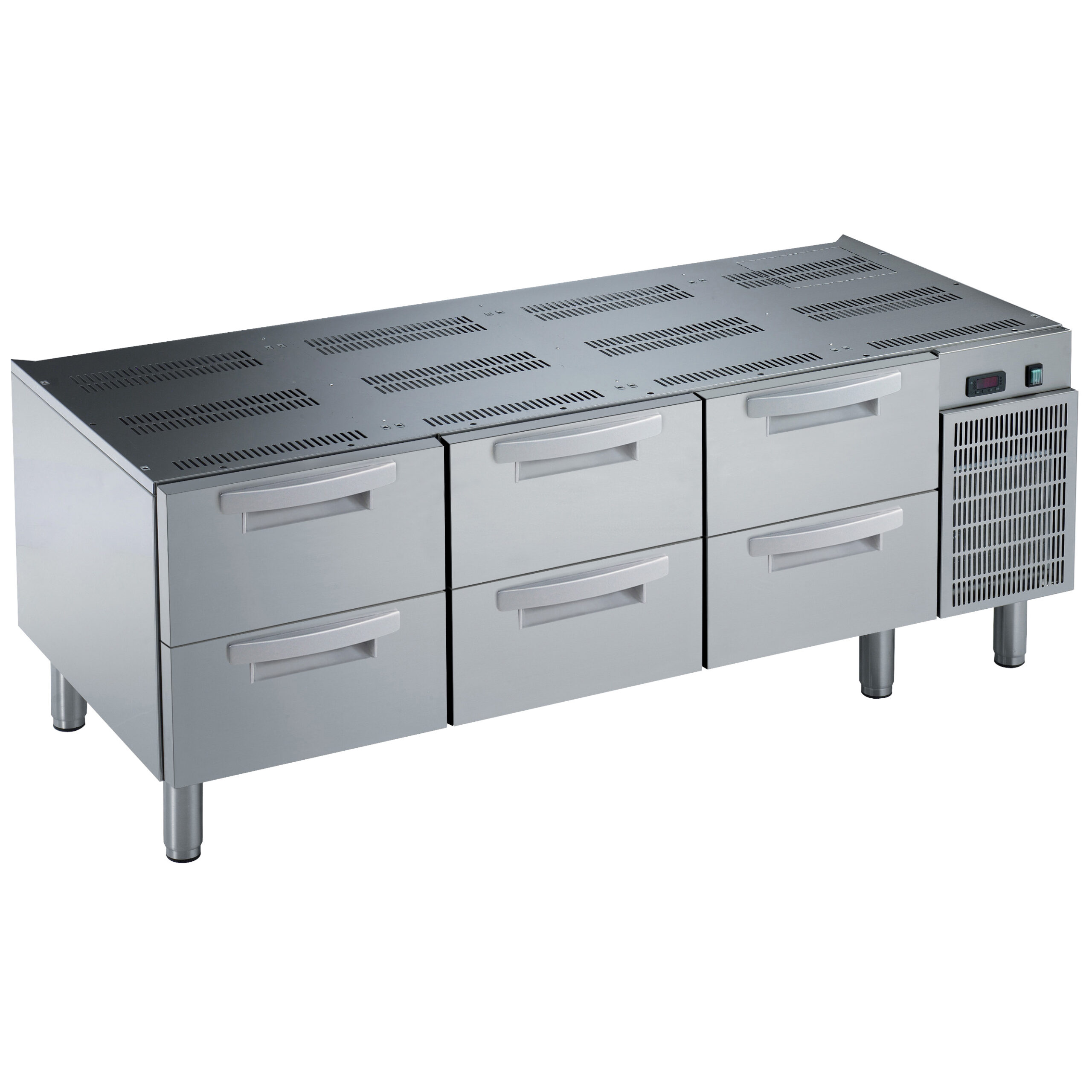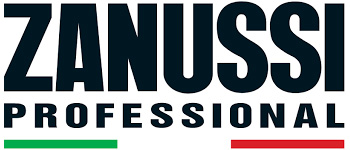 Under Bench Fridge Category
We understand that every business has unique requirements. That's why our range of commercial underbench fridges is available in various sizes and configurations to suit your specific needs. Whether you need a single-door, double-door triple-door, or even a large four-door unit, we have options to cater to your preferences. You can even choose between glass or solid stainless options depending on location and requirements. Investing in a commercial underbench fridge from Kitchen Setup means investing in reliability, efficiency, and convenience for your kitchen operations. Our products are sourced from trusted manufacturers known for their commitment to quality, ensuring that you receive the best refrigeration solution. Experience the benefits of a well-designed and dependable underbench fridge in your commercial kitchen restaurant or bar. Browse our collection today to find the perfect under bench fridge that seamlessly integrates with your workspace, enhances productivity, and preserves the freshness of your perishable goods.
At Kitchen Setup, we take pride in providing exceptional customer support and service. Our team of knowledgeable experts is readily available to assist you throughout the purchasing process, offering guidance and technical assistance. We strive to ensure that your experience with us is seamless, from browsing our range to after-sales support.
Under Bench Fridge For Sale – Melbourne | Sydney | Brisbane | Adelaide | Perth | Regional Australia
Wide range of Atosa equipment available through Kitchen Setup
Upright Freezers
Under bench refrigeration
Prep Counter Fridges
Keg Coolers / Kegerators