CookRite, a renowned brand in over 100 countries, has made its mark in the Australian market through its partnership with Simco Catering Equipment, the trusted supplier of Atosa products. Designed for professional kitchens, CookRite offers a range of commercial gas appliances that are simple, reliable, and affordable.
With a focus on durability and value for money, CookRite delivers exceptional gas cooking equipment at an unbeatable price point.  Few manufacturers can match CookRite's confidence in their quality, with outstanding warranties, they offer an impressive two years on labour and an incredible four years on parts which reflects their commitment to customer satisfaction.
CookRite also stands out for its commitment to energy-efficient gas appliances from the ground up.  CookRite maximises usable materials through clever and thoughtful design. This approach not only reduces construction waste and associated costs but also gives their appliances a sleek, minimalist look. While incorporating solid cast iron burners for precise and accurate temperature control, high-grade 304 stainless steel with the use of top-quality components ensures they deliver consistent results day after day, year after year.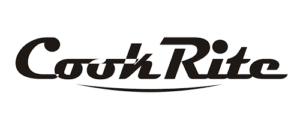 Whether you have a startup or an established commercial kitchen, CookRite has a wide range of sizes to cater to your specific needs. From restaurants and cafes to catering kitchens, CookRite provides simple, reliable, and economical cooking equipment that fits any budget. Explore the full CookRite range available in Australia through Kitchen Setup, ensuring your kitchen is equipped with the best. CookRite is Australia's most economical choice for premium commercial gas cooking equipment, with widespread popularity in Europe, the Middle East, and the USA. CookRite is fully gas approved for Australia and New Zealand, and it is backed by an extensive network of gas technicians across the country, providing you with peace of mind.
Part of the Simco-Group product lineup, which includes Atosa, Mixrite, and PrepPal, CookRite offers exceptional gas cooking solutions that have garnered a strong reputation worldwide for their quality and value. Designed and built for optimum performance, CookRite is the ideal choice for cafes, restaurants, and commercial kitchens seeking reliable and economical gas appliances. Not only does CookRite manufacture highly efficient gas cooking equipment, but it also prioritizes sustainability by reducing waste during production. This not only gives their appliances a stylish minimalist aesthetic that complements any professional kitchen, but also makes maintenance a breeze, keeping them looking like new even after years of use.
CookRite Commercial Gas Cooking Equipment Australia
Kitchen Setup are proud suppliers of CookRite throughout Australia. With shipping direct from the Australian supplier (Simco Group) we endeavour to offer unbeatable prices on the entire range. Save time & money, contact us to get the sharpest pricing upfront.