Atosa Countertop Showcase Display Fridge 900mm Curved – TY130L
Atosa Curved Glass Countertop Refrigerated Cake Showcase. Make your fresh baked goods look great and sell quickly. Stylish and compact the stainless steel and clear glass finish is easy to clean and will keep looking great. 2 full depth stainless wire shelves for maximum display space. Low heat, LED light strips. Install on any existing counter, simply plug in and set the required temperature between +2°C to +8°C. Perfect for the presentation of cake, pastries, sandwiches, and other delicate fresh food items that need to be safely cooled and look their best.
Atosa Countertop Curved Glass Display Fridge W900mm – TY130L
Atosa curved glass refrigerated showcases are a great way to make your fresh baked goods look great and sell quickly. Bench mounted so they present goods at perfect viewing level for customers to get a close look at your hard work and more likely to buy. It also helps create a light, transparent and functional divide between front and back of house which is ideal for small cafes and bakeries. Sliding rear doors are magnetically sealed to prevent heat loss and allow easy access to the two full depth stainless wire shelves. The curved glass design allows the top shelf to be offset which increases viewing space for more visual appeal, especially useful for cakes and pastries that sell themselves on looks alone. You do lose some presentation capacity when compared to the flat glass version. Internal LED light strips are energy efficient with minimal heat and the bright white colour output is chosen to make cakes and fresh sandwiches look fantastic. Simple to install on top of any existing counter, just plug in and set the required temp between +2°C to +8°C on the easy to use Dixell control panel. Stylish and compact the stainless steel and clear glass finish is easy to wipe clean and will keep looking great after years of service. Refrigeration display cases perfect for presentation of cakes, pastries, sandwiches and other delicate food items that need to be safely cooled and look their freshest.
Show off your fresh products with maximum exposure. Clear glass sides & top.
Low heat output, LED light strips
High strength, tempered glass
Includes two adjustable, high gage, stainless steel wire shelves
Working temp range +2C to +8C
Stainless steel & glass finish, easy to maintain & clean.
Removable back doors.
Ideal for installation on counter tops
2 width size options available 700mm & 900mm

2 years parts & labour warranty (+2 years extra on parts when registered with manufacturer)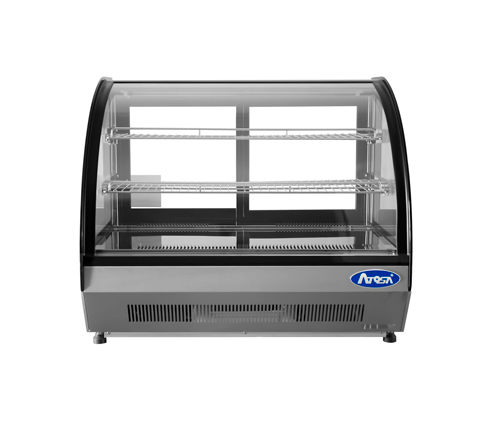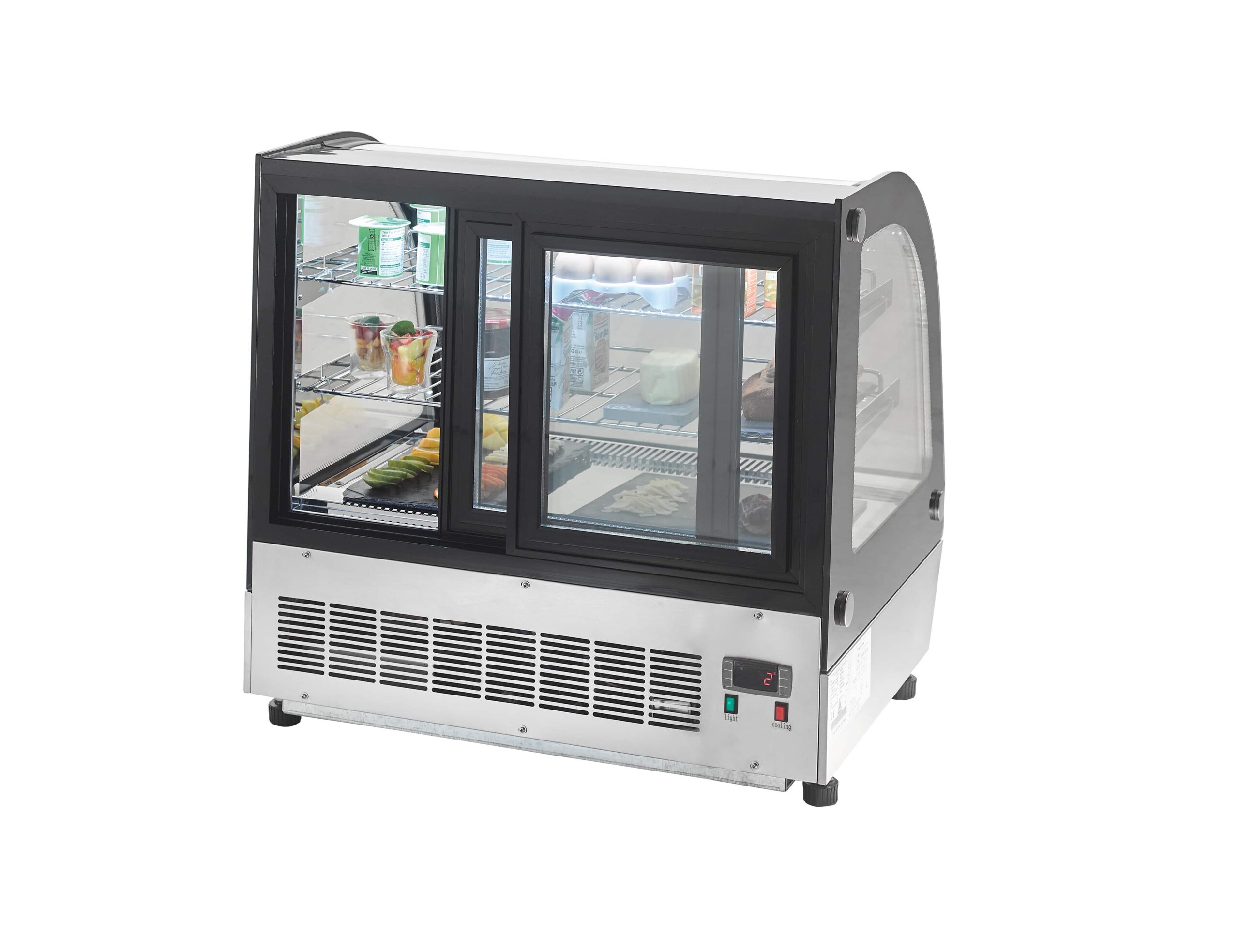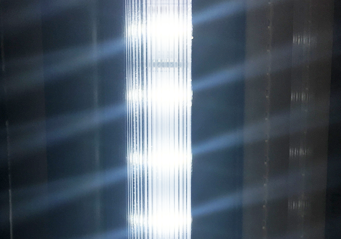 LED Illumination
LEDs evenly illuminate with low heat and make cakes look fantastic!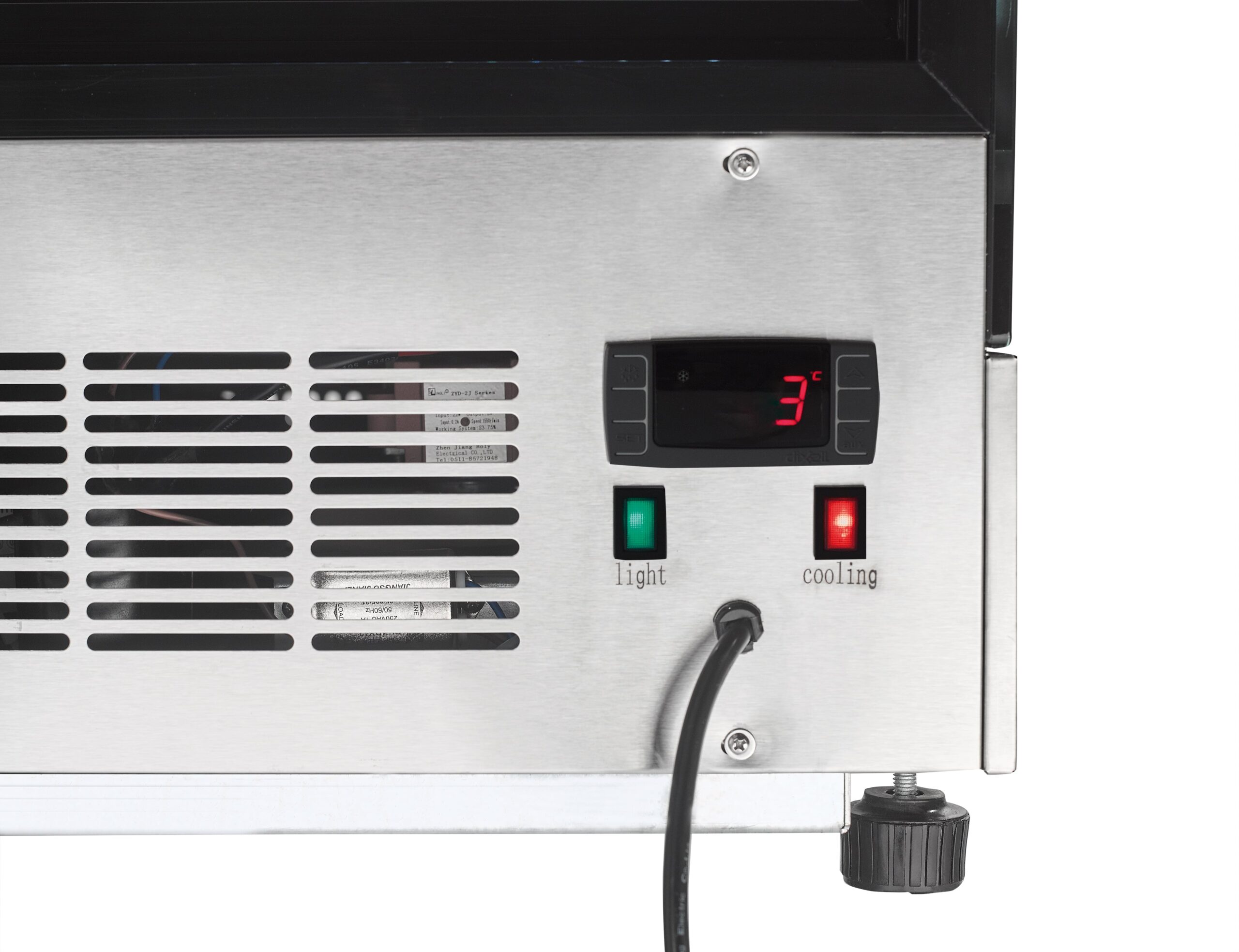 Dixell Control
Highest quality Italian made. Easy to set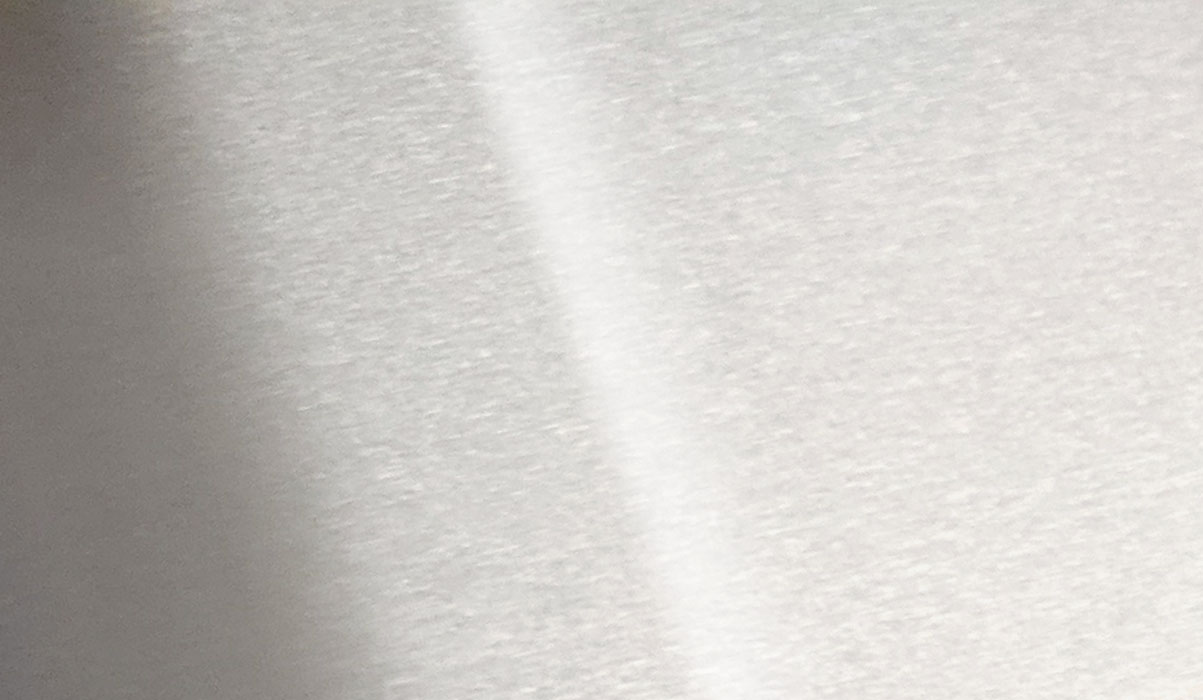 Stainless Steel
Easy to clean, corrosion resistant, looks great!
Additional information
| | |
| --- | --- |
| Weight | 70 kg |
| Dimensions | 900 × 560 × 670 mm |
| Product Code | TY130L |
| Doors | 1 |
| Refrigeration Volume | 130L |
| Working Temp | +2°C to +6°C |
| Ambient Temp | 43°C |
| Shipping Dimensions | W990 x 650 x 790mm / 94kg |
| Best Suited To | Cafes, Pubs, Bars, Bakeries, Quick Service Restaurants, Supermarkets |
| Brand | |
Technical Drawing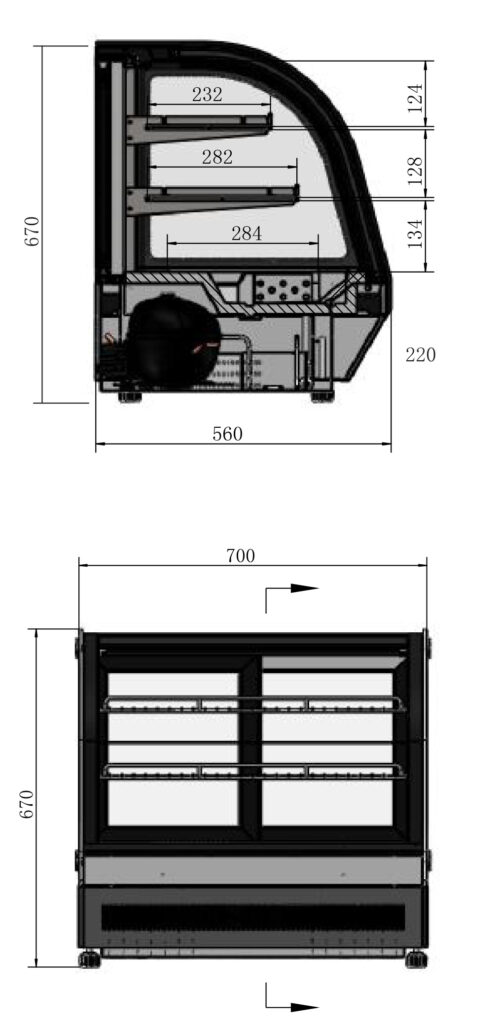 .
Warranty

2 YEARS WARRANTY ON ALL PARTS & LABOUR
+EXTRA 2 YEARS WARRANTY ON PARTS WHEN YOU REGISTER APPLIANCE WITH MANUFACTURER ONLINE – CLICK HERE

 Atosa Refrigeration
Atosa Refrigeration stands out as a global industry leader, not only due to its remarkable success but also its unwavering commitment to crafting some of the most energy-efficient and best commercial cake fridge showcase systems available. These great value units are meticulously designed from the ground up, using high-grade stainless steel and clear tempered glass to optimise usable space and materials while reducing construction waste and cost. Atosa's reputation for powerful, dependable, and efficient refrigeration systems can be attributed to rigorous quality control processes and the utilisation of proven, top-quality European components where it truly matters. Employing Embraco compressors with low noise and low vibration characteristics, along with Italian-made Dixell or Carel controllers, Atosa ensures precise and accurate temperature control, perfectly suited to Australia's demanding climate.
Atosa is swiftly making its mark in the Australian market, capitalising on the strong reputation it has built over the years in the UK, Europe, and the USA. By offering the best cake display fridges and cake showcases at unbeatable price points. Now, in Australia, they solidify their commitment to quality and value by providing an exceptional four-year parts warranty across their entire range of upright and countertop cake fridge displays. Every Atosa cake showcase undergoes a comprehensive series of tests, including a minimum 24-hour run-time assessment prior to shipping. These tests encompass computer refrigerant charging, vacuum decay checks, helium leak detection, vibration and noise level monitoring, visual inspections, and temperature accuracy analysis.
Atosa Refrigeration marries aesthetics, functionality, and style to make your establishment stand out from the competition. Atosa's mission is to assist you in creating and maintaining a beautiful and efficient commercial kitchen. Their extensive range of sizes and specialised display refrigerated units offers solutions for restaurants, bakeries, cafes, bars, hotels, and businesses of any size. Each cake fridge features removable shelves and doors for easy cleaning and stocking. The Atosa commercial square glass and curved glass cake display lineup encompasses countertop and upright showcases, as well as a variety of fridges and freezers.
Atosa cake showcase display fridges are equipped with CFC-Free refrigerants. Ideal for use in restaurants, bakeries, kebab and sandwich shops, hotels, resorts, supermarkets, sports centres or food enterprise.
Please note that cake display fridge images serve as illustrations of the indicated product specifications.
Outstanding Warranty

All Atosa commercial cake display fridges have an outstanding warranty that gets even better when you register the refrigerator with them online.
Australia's Best Value Commercial Cake Display Fridge
Kitchen Setup are proud supplier of the Atosa display refrigerator range around Australia. Benchtop, Countertop, Upright Cake displays, With shipping direct from the Australian distributor (Simco Group) we endeavour to offer unbeatable prices on the entire range. Contact us to get a stock check, delivery time, and our sharpest pricing upfront.
Atosa cake display fridge showcases @ stocked depots in
Melbourne | Adelaide| Perth | Sydney | Brisbane