Commercial Wok Burner – 1 Hole – JASPER
Single burner Waterless wok stove with 14″ wok burner hole and heavy duty stainless steel frame. High splashback with upper shelf. Flame failure protection with pilot, available with duckbill or chimney burners, in Natural gas or LPG.
Jasper Commercial Wok Burners are designed to meet the demands of professional chefs specialising in Cantonese or South East Asian style restaurants and cooking. Crafted with value and quality in mind, these waterless wok burners are the ultimate appliance for achieving perfection in stir-fry creations.
"Breath of the wok" for cooking Perfection:
Waterless wok cooking is a must for traditional Asian cuisines where ingredients need to be seared to perfection so flavors are intensified. Jasper wok burners are engineered to deliver even high heat distribution across the wok pan for achieving those coveted wok hei flavors where caramelised sugars and smokey flavours which can not be replicated on traditional western-style stovetops.
Robust Stainless Steel Frame:
Built to withstand the rigors of a busy kitchen, these wok burners feature a heavy-duty stainless steel frame that ensures longevity and durability. No matter how intense your cooking sessions get, Jasper wok burners are up to the challenge.
Precision at the Core:
The single 14" wok burner hole is designed to provide consistent, precise heat across the whole wok surface. It ensures every ingredient in your wok receives even cooking to guarantee perfection with every dish.
Safety First:
Jasper understands the importance of safety in the kitchen. That's why these commercial wok burners are OceaniaMark, IAPMO and GasMark Certified. All components used in the manufacture meet the highest requirements in accordance with specifically recognised Standards, overseen by Australian and New Zealand gas regulators. All come equipped with flame failure protection and pilot lights. You can cook with confidence, knowing that safety is a top priority.
High Splashback with Upper Shelf:
The high splashback and upper shelf not only enhance safety by preventing splatters but also provide a convenient space for utensils, ingredients, and cookware. It's a thoughtful design element that adds to the functionality of the burners.
Burner Options to Suit Your Needs:
Jasper offers flexibility of cooking with a choice of duckbill or chimney burners, allowing you to select the one that best fits your cooking style and preferences. Whether you prefer the precise control of a duckbill or the traditional charm of a chimney, Jasper Brand has you covered. These wok burners are available in both natural gas and LPG versions, ensuring that they can seamlessly integrate into any kitchen setup, no matter your fuel preferences.
Jasper Commercial Wok Burners master the art of Asian style wok cooking. With their innovative design, precision engineering, and commitment to safety, they set a new standard for being the best value wok burners in professional kitchens.
Technical Drawing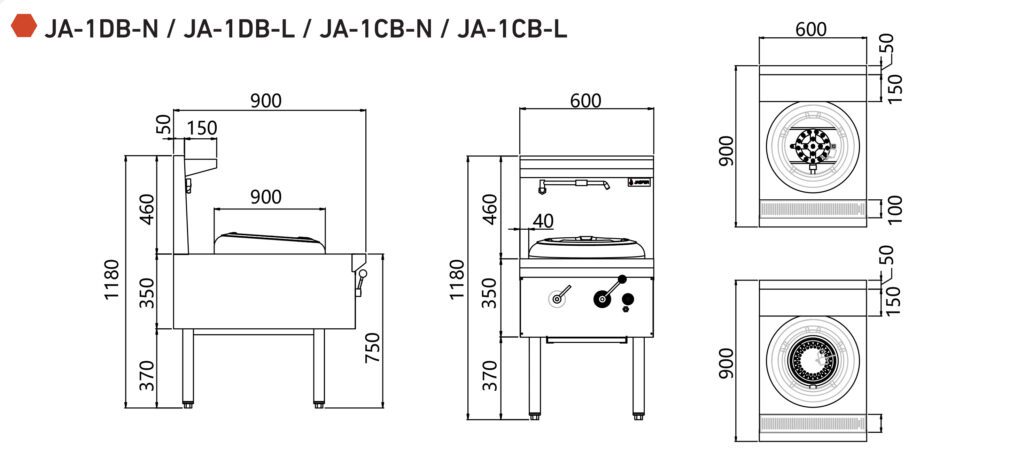 .
Additional information
| | |
| --- | --- |
| Dimensions | 900 × 600 × 1180 mm |
| Gas Type | Natural Gas, LPG |
| Burner Count | 1 |
| Burner Output | 100Mj/hr |
| Total Power | 100Mj/hr |
| Best Suited To | Cantonese, Chinese, South East Asian Cusine, Restaurants |
| Brand | Jasper |
| Burner Type | Duckbill, Chimney |
Warranty

2 YEARS WARRANTY ON ALL PARTS & LABOUR
+EXTRA 2 YEARS WARRANTY ON PARTS WHEN YOU REGISTER APPLIANCE WITH MANUFACTURER ONLINE – CLICK HERE