CookRite Commercial Benchtop Deep Fryer 1 Burner Gas 8-10L – AT65G4F-C
     
Cookrite Benchtop deep fryer. Great value 1 burner commercial gas fryer with thermostat controlled. Stainless 10L litre capacity oil tank. Finished in low maintenance 304 stainless steel. Natural gas or LPG versions, available with a single basket as standard. Perfect for chips, chicken, pastries + more.
Robertshaw USA
Thermostat, Valves & Contols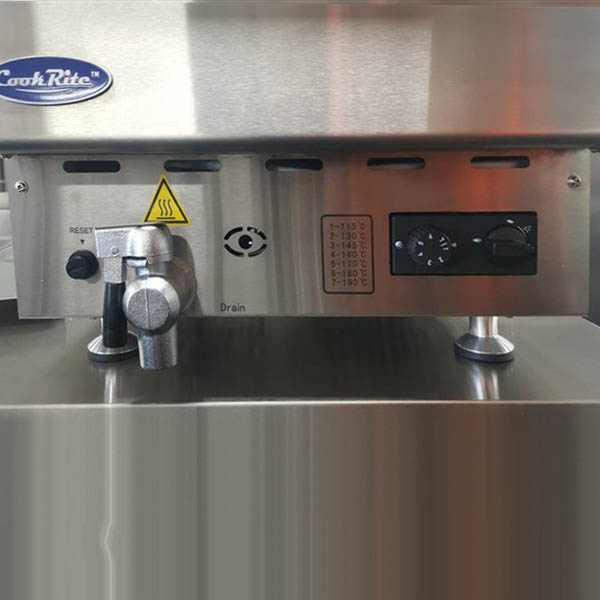 Front Facing Oil Tap
Manual control dial
CookRite - CookRite is sold all over Europe, the Middle East, and the USA is fast becoming Australia's most economical range of premium commercial gas cooking equipment. Gas approved Australia / NZ. CookRite is fully backed with an Australia wide service network of gas technicians to give you full peace of mind.
CookRite is a brand released within Australia's Simco-Group range of products along with Atosa, Mixrite, PrepPal + CookRite offers an exceptional and economical gas cooking range that has built a great reputation in over 100 countries for its quality and value. Built and designed to perform, there is sure to be the ideal gas appliance to suit any cafe, restaurant, or commercial kitchen application.
CookRite manufactures highly efficient gas cooking equipment and by reducing wasted material during production design they make the most of every resource. CookRite's minimalist style not only looks great in any professional kitchen, it's also super simple to maintain and keeps looking like new after years of use.
CookRite Australia - commercial gas appliances - Ovens, Griddles, Chargrills, Burners, Fryers.
RENT - TRY - BUY
Authorised SilverChef Dealer
Hospitality commercial equipment finance to help get you started & grow