Stockpot Commercial Boiler
Commercial Stockpot Boiler with heavy duty stainless steel frame. High splashback. 18 Jet duckbill burner, flame failure protection with pilot. Available in Natural gas or LPG.
Jasper Commercial Stockpot Burners are designed for cooking efficiency in restaurants and commercial kitchens. Crafted for precision and value these stockpots are Australia's best for performance, safety, durability and value for money.
Heavy Duty Stainless Steel Frame:
Built to withstand heavy duty use in a commercial kitchen, these stock pot burners feature a stainless steel frame that ensures longevity and stability. No matter the demands of your cooking requirements, Jasper burners stand strong.
Precision Cooking with 18 Jet Duckbill Burner:
Experience fast precision cooking with the 18 Jet duckbill burner. These powerful burners are engineered to provide consistent and even heat distribution, ensuring that your stock pots simmer perfectly every time.
Safety and Reliability:
Equipped with flame failure protection and pilot lights, chefs can cook with peace of mind, knowing that Jasper places safety is a top priority.
High Splashback for Clean Cooking:
The high splashback not only keeps your cooking area clean by preventing splatters but also adds to the safety of your kitchen. It's a thoughtful design element that enhances the functionality of the stockpot burners.
Natural gas and LPG
Jasper stockpot burners are available in both natural gas and LPG versions, allowing you to choose the fuel option that aligns with your kitchen setup.
Jasper Commercial Stockpots are available Australia wide. With their precision engineering, commitment to safety, and durability, they set a new standard for stockpot cooking in restaurants and professional kitchens. Whether it's for simmering soups, stews, or stocks, Jasper burners will help chefs achieve their best.
Technical Drawing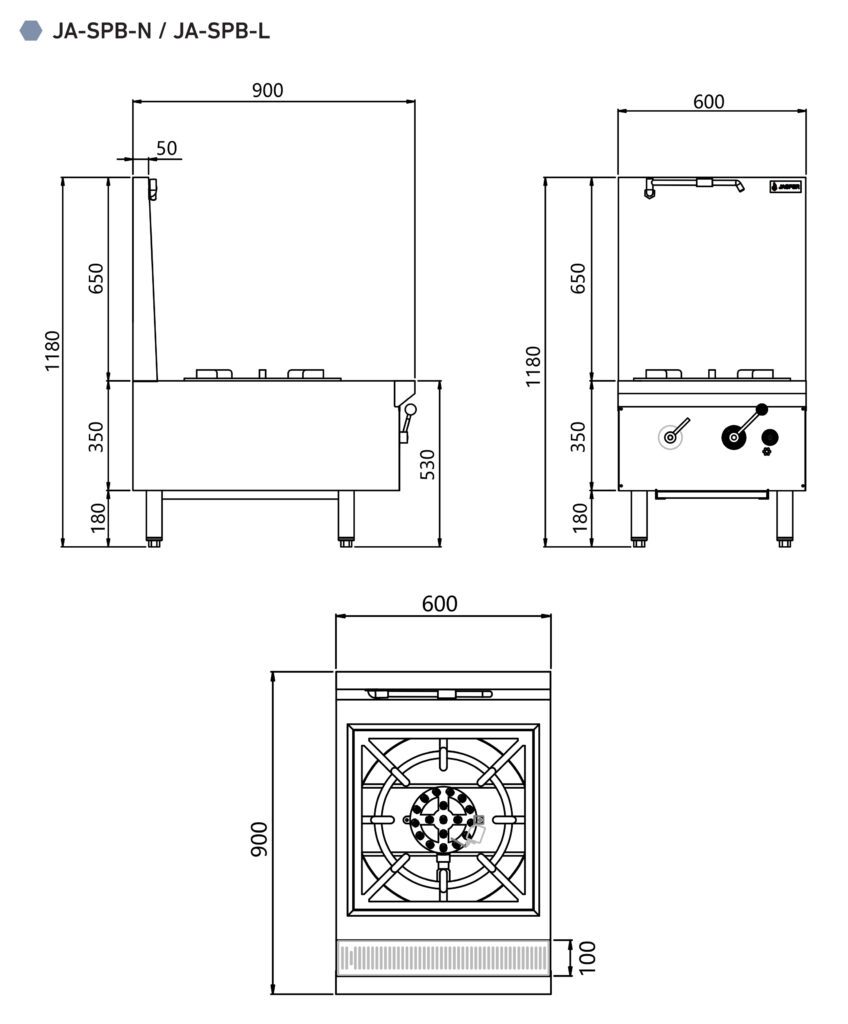 .
Additional information
| | |
| --- | --- |
| Dimensions | 900 × 600 × 1180 mm |
| Gas Type | Natural Gas, LPG |
| Burner Count | 1 |
| Burner Output | 100Mj/hr |
| Total Power | 100Mj/hr |
| Best Suited To | Cantonese, Chinese, South East Asian Cusine, Restaurants |
| Brand | Jasper |
| Burner Type | Duckbill |