Please note: This unit has sliding covers over the GN pans.
It does not have glass doors on the mid-shelf as shown on some other websites.
Atosa Sandwich Prep Fridge – MSF8304G
Atosa 3 door refrigerated sandwich prep table + glass-covered salad-bar with mid-shelf display. Under bench fridge with self-closing doors and recessed handles. Easy to clean, stainless steel interior and exterior. Uses a European manufactured compressor and motor for reliable long-lasting use. Includes GN pans to suit.
Prep Fridge / Sandwich Salad Bar – 1850mm – Atosa MSF8304G
Atosa MSF8304G Sandwich Salad Bar Prep Fridge is designed to cater to the demanding needs of sandwich artists, pizzarias, kebab shops, salad makers, and more. With innovative features and dependable performance, this fridge is a valuable addition to working kitchens, helping make sandwich and pizza preparation simpler.
The Ultimate Prep Station: The MSF8304G boasts an inbuilt glass-covered saladette, capable of holding any combination of 1/3 or 1/6 GN pans. It's purpose-built for quick and easy preparation of sandwiches, pizzas, kebabs, salads, and much more, ensuring that your kitchen runs efficiently.
Engineered for Australian Kitchens: This three-door under-bench fridge is designed to operate seamlessly in Australian kitchens. It features a quiet, energy-efficient, fan-forced refrigeration system for consistent and reliable cooling. Thanks to industry-leading Embarco compressors, it handles the challenging Australian climate boasting a 43ºC ambient operating temperature rating.
Exceptional Insulation and Energy Efficiency: The stainless steel doors of the MSF8304G provide great insulation. and are equipped with magnetic gaskets, to hold a secure seal that keeps heat, moisture, and dust at bay while preserving interior temps. This eliminates the need for additional latches, saving you money and simplifying operation.
Effortless Dual-Action Doors: Chefs and kitchen staff will appreciate the dual-action design of the round corner doors. They self-close during normal use, ensuring consistent temperatures within the fridge. Push them past 90º, and they stay open, simplifying loading and making it easy to organise ingredients.
Organised Storage with GN Pan Shelves: Inside the roomy cabinet, shelves are designed to accommodate GN pans, ensuring your ingredients are always within reach and well-organised. Each section includes one epoxy-coated wire shelf.
Hygienic and Easy to Clean: The stainless steel finish, both inside and out, not only enhances the fridge's aesthetics but also simplifies cleaning ensuring that your fridge remains spotless and ready for use.
Atosa MSF8304G Sandwich Salad Bar Prep Fridge is your ultimate value for the preparation of sandwiches, pizzas, salads, and more. With innovative design, efficient cooling, and kitchen-friendly features, it sets a new standard for prep fridges.
Prep Fridge MSF8304G
Air over ingredient well
Sliding lids over ingredient well
Glass midshelf included
Stainless steel exterior and interior
Embraco compressor
Automatic defrost
Ventilated cooling
Shelves and castors are included
Cutting board included
Pans included
2 years parts & labour warranty (+2 years extra on parts when registered with manufacturer)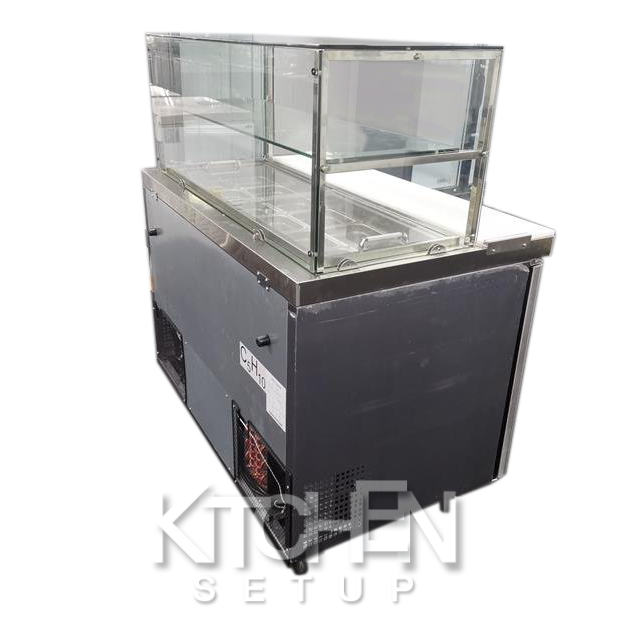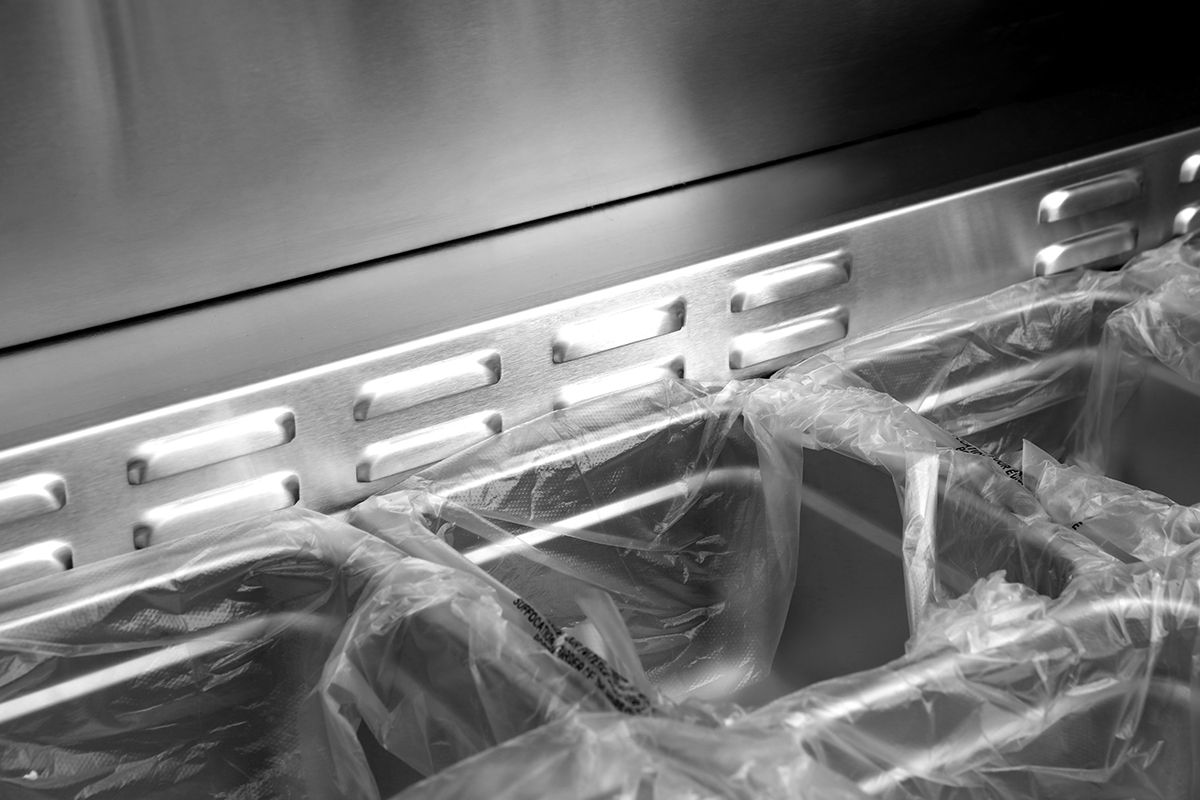 1/6 GN Pans
Fits standard size 1/6 GN pans
Prep Fridge with inbuilt Saladbar MSF8304G Melbourne
Atosa large prep table prep fridge with Glass canopy over salad fridge area MSF8304G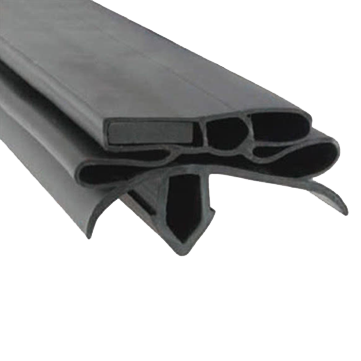 Magnetic Gasket Seals
Magnetic gaskets increase efficiency and ensure a firm seal to keep out heat, moisture and dust.
Dual Action Doors
Dual action doors are self closing during normal use or will stay open for loading when opened past 90º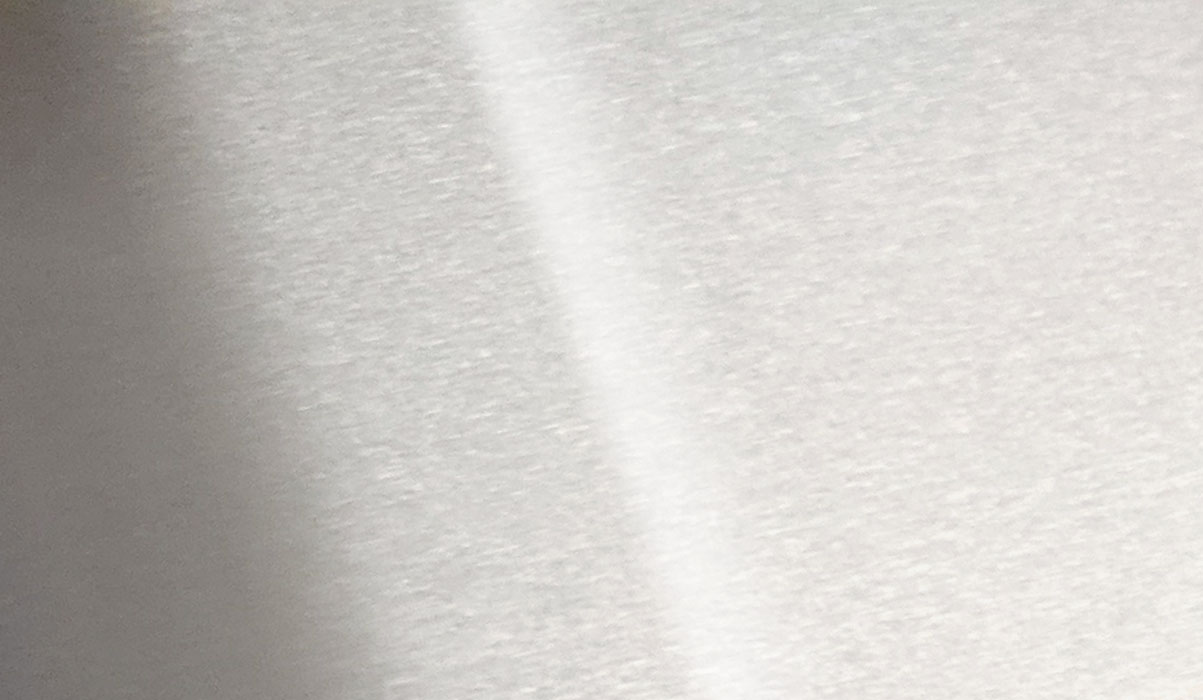 304 Stainless Steel
Easy to clean, corrosion resistant.
Prep Fridge with inbuilt Saladbar MSF8304G Melbourne
Atosa large prep table prep fridge with Glass canopy over salad fridge area MSF8304G
Additional information
| | |
| --- | --- |
| Weight | 170 kg |
| Dimensions | 1846 × 762 × 1420 mm |
| Doors | 3 |
| Pans - Qty x Size | 18 x 1/6 |
| Working Temp | +1°C to +8°C |
| Ambient Temp | 43°C |
| Power | 240V/50Hz |
| Best Suited To | Cafes, Pubs, Bars, Bakeries, Quick Service Restaurants, Supermarkets |
| Brand | |
Tech Drawing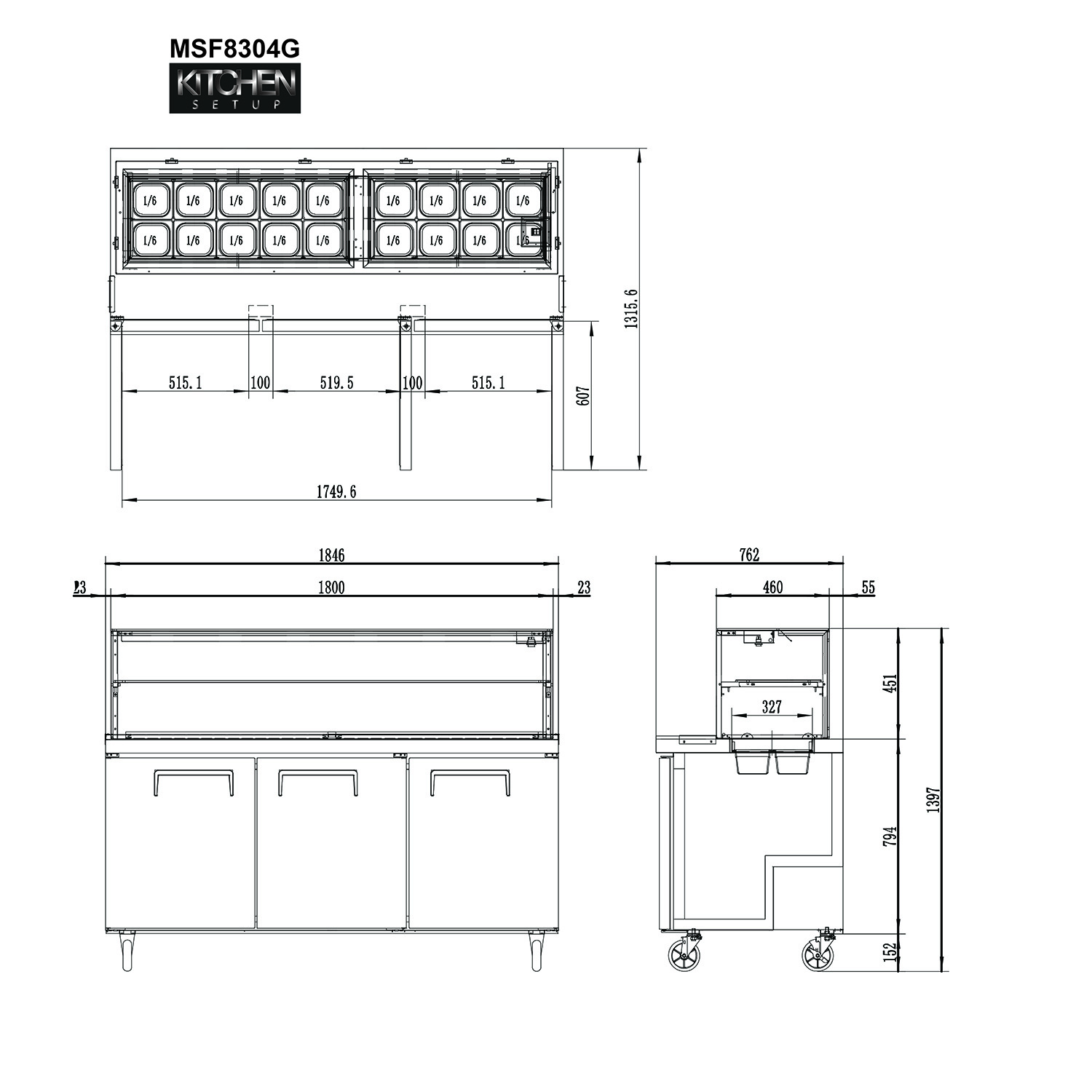 .
Warranty

2 YEARS WARRANTY ON ALL PARTS & LABOUR
+EXTRA 2 YEARS WARRANTY ON PARTS WHEN YOU REGISTER APPLIANCE WITH MANUFACTURER ONLINE – CLICK HERE

 Atosa Refrigeration
Atosa is proving itself to be a global leader not just through its success but by a commitment to manufacturing some of the most energy-efficient commercial prep fridges and underbench refrigerator systems on the market, from the ground up. With the use of high-grade stainless steel, Atosa units are thoughtfully designed to maximise usable space and materials while reducing construction waste and cost. Their reputation for powerful, reliable and efficient refrigeration is thanks to intense quality checking and the use of proven, high-quality European parts where it counts. Low noise, low vibration Embraco compressors and Italian made Dixell or Carel controllers, are not just super easy to use, they ensure precise, accurate temperature control which is ideally suited to Australia's demanding climate.
Atosa is quickly exceeding the Australian market with the reputation they have built over the years in the UK, Europe and USA. By supplying quality underbench refrigerator and prepcounters at an unbeatable price point they can boast of rave reviews for their durability and value for money. Now in Australia, they are quick to back up their quality and value of their prep & under counter fridges with an incredible four (4) years parts warranty on their entire range. All Atosa under counter fridges must pass a thorough series of tests for a minimum run time of 24 hours prior to shipping. These tests include computer refrigerant charging and vacuum decay checks. Helium leak detection, vibration & noise level monitoring, visual examinations and temperature accuracy analysis.
Atosa refrigeration is a blend of aesthetics, functionality and style to make your kitchen stand out above the rest. Atosa's mission is to help you create and maintain a beautiful and efficient commercial kitchen. With a wide range of sizes and specific application units to choose from, they have refrigerator options to cater to any size restaurant pizza or kebab shop, cafe, bar or hotel. All underbench fridges and freezers come with removable shelves, lockable self-closing doors, and castors as standard, which ensures they are secure, easy to clean and simple to move. The range of Atosa commercial preparation refrigerators includes not only single, double & triple door fridges & freezers but also a selection of application-specific prep-tables (pizza or sandwich), counter fridges, saladettes, under-bench fridges, and even keg coolers! They are also behind the great range of affordable gas cooking appliances from Cookrite. Check out the entire Atosa range here
All Atosa prep counter refrigerator units utilise CFC-Free refrigerants in both underbench fridge and under bench freezers. Atosa markets worldwide to demanding operational businesses: restaurants - pizza, kebab, sandwich shops, hotels, resorts, supermarkets and commercial kitchens.
Outstanding Warranty

All Atosa commercial under bench fridges, freezers have an outstanding warranty that gets even better when you register the refrigerator with them online.
Australia's Best Value Commercial Prep-bench Refrigerators
Kitchen Setup are proud suppliers of the Atosa prepbench refrigerator range around Australia. Underbench / under counter refrigerators & freezers, counters, kegorators. With shipping direct from the Australian distributor (Simco Group) we endeavour to offer unbeatable prices on the entire range. Contact us to get a stock check, delivery time, and our sharpest pricing upfront. 
Atosa prep fridges - freezers - counter tables @ stocked depots in
Melbourne | Adelaide| Perth | Sydney | Brisbane