Ice Machine + In-built Water Drain Pump 54kg – ICEMATIC C50-A-DP
ICEMATIC C50-A-DP Under Counter Self-Contained Ice Machine produces a full and structured ice cube, with a rounded surface. Compact and transparent, this ice is extremely elegant and efficient for various uses such as ice buckets, cocktails, aperitifs and whisky on the rocks. The electronic management system allows complete access to all functions and service settings of the machine, with a simple touch on the capacitive control panel. Up to 50kg production per 24/hr of medium ice cube. 22kg storage bin. Complete with castors, water & drain hoses + 1 ice scoop. 10 AMP power supply. Water discharge up to 12 metres away & 1.2 metres high.
Self-contained ice maker with in-built water drain pump. 50kg production. 22kg storage bin.
Experience the excellence of the ICEMATIC C50-A-DP Ice Machine, a self-contained under-bench ice maker that produces premium, perfectly shaped ice cubes for prolonged beverage cooling. The ice's transparency adds an elegant touch to any setting, making it ideal for ice buckets, cocktails, aperitifs, and whisky on the rocks. With its compact design and advanced features, this ice maker is both stylish and efficient.
The ICEMATIC C50-A-DP can produce up to 50kg of ice per day and boasts a large incorporated storage bin capacity, ensuring an ample supply of ice for your needs. The stainless steel body not only enhances durability but also adds a sleek aesthetic to your workspace. Easy access for internal cleaning and maintenance simplifies upkeep, while the capacitive touch control panel allows for convenient standby and reset functions.
The ice maker's electronic management system provides complete access to all machine functions and service settings, effortlessly controlled with a simple touch. Plus, the USB access feature with parameter memory ensures easy configuration and customisation. Maintaining optimal hygiene is effortless with the automatic washing function, keeping your ice maker clean and ready for use. The evaporator electronic sensor enhances efficiency and reliability, ensuring consistent ice production.
Upgrade your beverage service with the ICEMATIC C50-A-DP Ice Machine, designed to deliver outstanding ice quality and reliable performance. Perfect for various commercial applications - Bars, Pubs, Cafes, Restaurants + more.
LARGE INCORPORATED STORAGE BIN CAPACITY
STAINLESS STEEL BODY
EASY-ACCESS FOR INTERNAL CLEANING AND MAINTENANCE
CAPACITIVE TOUCH CONTROL FOR STAND-BY AND RESET
USB ACCESS WITH PARAMETERS MEMORY
AUTOMATIC WASHING
EVAPORATOR ELECTRONIC SENSOR
Additional information
| | |
| --- | --- |
| Weight | 48 kg |
| Dimensions | 500 × 580 × 800 mm |
| Brand | ICEMATIC |
| Power Phase | 1 |
| Manufactured | Italy |
| Warranty Parts (months) | 24 |
| Warranty Labour (months) | 24 |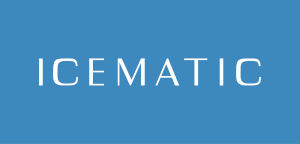 Australia's Best Commercial Ice Machine by

Icematic

Icematic - leaders in the production of the best commercial icemakers around the world. Icematic manufactures a wide range of ice machines designed for small cafes, bars, and pubs to high production units for large restaurants, hotels, fast food chains and industry, health, or hospital use. From the preservation and display of fresh seafood using flaked ice in shops and supermarkets to the creation of the perfect cocktail using nugget or half-dice cubes in the most sophisticated bar, Icematic will have the ideal choice of application and capacity to meet any catering need.

Self-contained full ice cube machines are under bench units with incorporated storage bins and large capacity. Their small, compact dimensions and stylish modern design allow for easy placement in front-of-house locations without compromising the look of your bar or cafe. Compact and transparent cubes are created using a spray system to quickly produce clear, transparent ice formed in the patented Icematic shape. Extremely elegant, long-lasting and chewable ice which is efficient for various uses: enjoy in water, ice buckets, cocktails, soft drinks or whisky on the rocks.

Hollow ice cube makers create a wide surface needed for rapid cooling. Its simple shape is fast to make and gives extreme flexibility of use. Soft drinks, cocktails and other preparations that need to be cooled fast. The hollow ice series is generally considered is the most versatile for most uses.

Nugget ice makers create ice that is both compact and pleasant to chew. Halfway between flake ice and solid ice cubes it is needed for the creation of various cocktails or where crunched ice is needed. Nugget ice has low water content and may be used in cafe's, bars, clubs, professional catering and restaurants. Its softer texture than solid dice makes it easily chewable and is the recommended ice of choice for the elderly in assisted living, nursing homes and the medical sector.

Full and square ice cubes are available in three different sizes Dice, Half dice and Large dice. Choose the perfect solution for quick beverage cooling in your establishment. The high productivity of the Dice cube ice makers can be perfectly matched with Icematic storage bins to meet the ideal requirements where a large consumption is required. Suited to many applications, Dice ice cubes are the optimal choice in large bars, nightclubs, hotels, resorts, restaurants and fast-food.

Flake granular ice is used in many industries. With multiple uses from food preservation and display, to cocktails and drinks or wider applications in cosmetics, medical and hospital environments. This type of wet ice is also ideal for the bakery sector. Icematic Flake ice makers ensure even ice quality with minimal residual water. It's easy to handle, stock and weigh. The residual-water content depends on model and may vary from 25% to 15%

The Icematic ice-dispensers are practical, compact, efficient and available from Kitchen Setup in two different models - Floor dispenser creating a full cube, and a counter dispenser with nugget type ice. Ideal for self-service, hotels and pubs where it is necessary to have easy-to-use, on-demand ice without the staff to restock or supply.

Discover the amazing features of the Icematic models in the Kitchen Setup range. Call us for any inquiries, info and discount price on the best ice maker for your needs.

commercial ice machine Perth - commercial ice machine Brisbane - commercial ice machine Melbourne
Australia's Best Value Commercial Ice Makers
Kitchen Setup is a proud supplier of the best Icematic ice makers around Australia. With shipping direct from the distributor we offer unbeatable prices on our entire range. Contact us for a stock check, delivery time, and discount price. 
Commercial Ice machines delivered direct around Australia
Melbourne | Sydney | Brisbane

| Adelaide | Perth