Electric Combi Oven +Touch Screen 10 x 2/1GN – LAINOX NAE102B
NAE102B – Electric Combi Oven
10 x 2/1 GN or 20 x 1/1 GN Naboo Boosted direct steam electric combi oven. Electronic 10 inch touch screen control panel. Wi-Fi connectivity and USB port for HACCP. Perfectly smooth, watertight chamber. Six speed fan and door with double tempered glass. In-built automatic washing system with multiple cleaning modes. Complete with core temperature probe, internal stainless steel runners and 5 micron water filter. Temperature range 30°C – 300°C. Boiler option available – code OB102E. 3 phase, 36.7kW power supply
NAE102B - Electric Direct Steam Combi Oven 10 x 2/1GN with Touch Screen
With Lainox you have access to Nabook, a virtual assistant that Lainox provides to all chefs, whether they have a Naboo device or not. With Nabook, you can manage your kitchen remotely by organising your recipes and menus and managing food costs and even shopping lists. Chefs can configure your devices from Nabook and synchronise your recipes with all the combi ovens, more details on nabook.cloud - Lainox allows you to create, organise, and save your recipes or access the database of hundreds of recipes in the Lainox Cloud. It also lets you share your favorite recipes with other users or just export them and share them with whomever you want. Plan your menus and print them ensures that chefs use the best one for the occasion from the templates available. In order to help manage your business in the most efficient way and optimise profit, Nabook gives you the ability to calculate the precise food cost of your recipes and menus. Organise shopping so you won't forget anything or make mistakes managing the list, be sure you have the exact list of what you need to make a recipe so waste is avoided. Thanks to the Naboo website and the new LMS, you can configure your devices and synchronise your recipes differently for each combi oven.
Configure the display based on the needs of the user, bringing forward the programmes used most often.
Automatic "One Touch" cooking (ICS).
Organise recipes in folders with a preview, giving each folder its own name.
Intelligent recognition of recipes in multilevel folders.
10" LCD colour screen, high definition, capacitive, with "Touch Screen" functions.
Boosted Pre-heating. Possible to pre-heat the cooking chamber up to 320°C to reduce cooking times by up to 10% (in the case of a full oven).
Instantaneous display in ICS cooking of the HACCP graphic.
Cool Down function for the rapid fan-cooling in the cooking chamber.
Automatic resumption of cooking in the case of a power failure.
Rapid cooling with an injection of water into the cooking chamber.
Manual humidifier.
User interface with a choice of 29 languages.
Naboo comes with 227 recipes, with hundreds more available by accessing the Nabook portal. Every recipe has been tried and tested to guarantee an excellent result.
Naboo coach. The virtual assistant provides advice on cooking, and the best washing cycle, and even lets you know when maintenance is required
Additional information
| | |
| --- | --- |
| Weight | 160 kg |
| Dimensions | 1072 × 907 × 1055 mm |
| Power Phase | 3 |
| Manufactured | Italy |
| Warranty (months) | 12 |
| Brand | |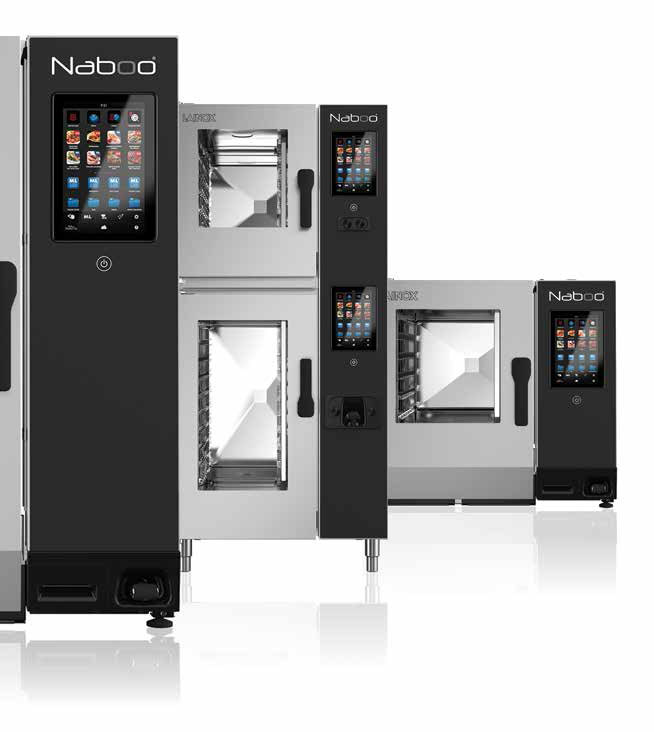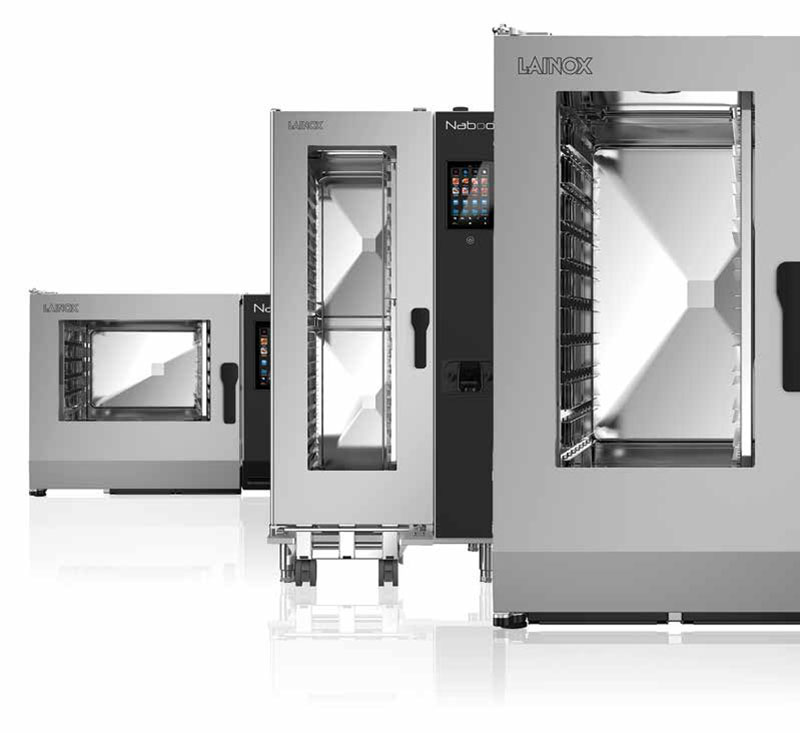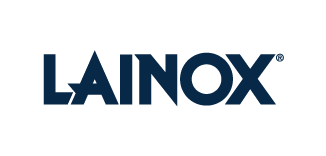 Lainox -
Commercial Combi Oven Steamers.
Lainox manufactures the latest professional commercial combi oven steamers to unleash the cooking potential for restaurants and commercial kitchen catering. Italian design and manufacturing are evident with a thoroughly considered design, and by using the latest technology with state-of-the-art manufacturing techniques, Lainox allows any chef to grill, fry, roast, and steam cook quickly, reliably, and with ease and without compromise. Lainox combi ovens will be an exceptional addition to any catering or restaurant kitchen, with the ability to cook up to 480 steaks in 7 minutes, or fry 240 eggs in 2 minutes you are sure to find a Lainox option suitable for your commercial cooking requirements. Choose between electric combi or gas combi or a combination of both using their integrated stacking system upgrade. Lainox has put its experience to show by creating the best combi ovens on the Australian market at an achievable price point. They bring a new level of professional cooking to any kitchen by creating machines that achieve speed, efficiency, intelligence, flexibility, and power. Chefs have unprecedented control with inbuilt monitoring of electricity, gas, water, and detergent consumption and includes reviews for all previous cooking and cleaning processes. with certain models, you can even connect to "Nabook" (the Lainox Cloud), so systems can also be monitored remotely.
Lainox combi oven convection steamers, are a blend of functionality, style and the latest technology. Their gas and electric combis will make your kitchen and cooking results stand out above the rest. there are a huge number of specific application attachments that will increase efficiency, skewer cooking, steak grilling, chicken roasters, pizza grills or frying trays. Discover the amazing features of the Lainox combi oven models in the Kitchen Setup range. Call us for any inquiries, info or recommendations for the best combi oven option for your needs.
Electric - Cooking chamber heating system with armored heating elements in INCOLOY 800 stainless steel.
Gas - Automatic burner ignition with high-frequency electronic discharge generator. High-performance cooking chamber with indirect gas heating system with premixed and air-blown modulating flame burners.
DIRECT STEAM GENERATION - Direct cooking chamber steam generation system with water injection directly on the fan and nebulization on the heating elements. Advantages: immediate availability of steam in the cooking chamber. Water and detergent savings for the routine maintenance of the steam generator.
INDIRECT STEAM GENERATION - New high-performance fully insulated steam generator heating. Automatic pre-heating of water in the steam generator. Draining and automatic daily wash of the steam generator, with a water temperature of below 60°C. Standard supply anti-limescale CALOUT system which prevents the formation and build-up of limescale in the steam generator.
Australia's Best Value Combi Ovens
Kitchen Setup is a proud supplier of the Lainox combi oven steamer range around Australia. Superseding the Baron Combi range they meet the same great results with constant updates and improvements. With shipping direct from the Australian distributor we endeavour to offer unbeatable prices on our entire range. Contact us for a stock check, delivery time, and our sharpest pricing upfront. 
Lainox Combi ovens delivered direct around Australia
Melbourne | Sydney | Brisbane

| Adelaide | Perth