There can be some mental hurdles to jump when trying to decide on the "perfect" location. Setting up a restaurant or cafe in area with minimal competition can be a great way to offer a new option to people with little choice. We all know a neglected suburban shopping strip that has been given a new lease thanks to some industrious little cafe that simply gave the community an opportunity to buy good coffee and they end up being the place to be. Or should you be in an area with an established customer base but are worried with so much competition if will you be able to effectively compete.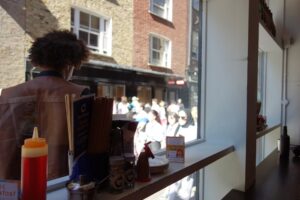 If you are looking in an area with similar establishments around, having a variety of cafes and restaurants in relatively close vicinity can help create a welcoming community environment. People will meet up to spend time in vibrant streets so your neighbours should not be seen so much as competition but as a choice for customers that helps brings them in. When designing your menu for an area like this having a particular niche in the food or service you offer is a great way to ensure the customer has a real choice and a reason to visit you. When you think of community strips like Richmond's Victoria Street, or Carton's Lygon Street, they have dozens of similar restaurants within a very short distance, many with their own speciality. It's the sense of community that becomes the attraction and brings in people far and wide allowing the entire strip to prosper. So keep your options open, try to see the advantages and disadvantages of each location and weigh them up against the type of place you envisage yours to be.
When searching you will undoubtedly look at numerous locations to find the ideal fit. At each place check what services are already connected and suitable for your requirements. Drainage, grease traps, exhaust hoods, main line natural gas and 3 phase power are some common requirements of a commercial kitchen. It can save you a lot of money on startup if you don't need to install them yourself.
When inspecting an existing kitchen, the condition of the walls and ceilings could help indicate how adequate the ventilation was for the previous tenants. Closely inspect the walls and ceilings for any sign of moisture damage. It's likely the premises will have been cleaned prior to your inspection but peeled paint or a greasy, sticky feel on on painted ceilings and walls can be difficult to remove so could be telltale signs the ventilation was not up to scratch and you may need to have canopies upgraded. Note down the length of any existing canopies. All large cooking appliances need to be fully under the canopy with overhang. Sometimes canopies can be modified to be extended but doing so will decrease air draw so if it is a consideration, you should seek advice from a professional canopy installer. Also keep in mind in Australia many upright hood style dishwashers need to be under a canopy to remove the steam they generate. As your wash up zone will be likely be away from the cooking zone a separate canopy may be needed. This can be over come by using a washer with a heat recovery system, they are more expensive but you save money on installing a hood and gives you the option to easily relocate if you ever move.
Most commercial equipment is bigger and heavier than domestic models so it's important check access for equipment. Doorways to access the kitchen should ideally be a 900mm and have enough room around them to negotiate long appliances like under bench cooling. Hopefully you have your concept menu done so you know what equipment is needed. If things look tight, confirm sizing and be sure there is an option that will be suitable to fit. There are some great compact units available that can fit practically anywhere. Ensure the appliance you need can be used with the connected services. If any of your required services are not yet installed check with the building owner to make sure they can be. Including extending or adding ventilation ducts if needed. Also confirm there is suitable rear access for deliveries and adequate area for waste disposal away from any food preparation or food storage area.
---
Our next blog on tips about helping making sure you meet regulations for the construction and fit out of food premises
Part III – If this is your first setup and you are doing it largely on your own, national and council regulations regarding the construction and fit out of food premises will be something you soon learn all about. Don't fear council regulations or inspectors, they are a valuable resource in ensuring the safety of both staff and customers. They are more interested in making sure you are setup and can do things correctly than they are at fining you when you're not. Apart from the required inspections, consult with council regularly. If you have any concerns don't ignore it and hope for the best at inspection time. Bring it up with them to understand a solution. It lets them know you are serious about doing the right thing and you will better understand your requirements…